Why SERVPRO of East Davie/Cooper City Should Be Your Mitigation Company
7/6/2022 (Permalink)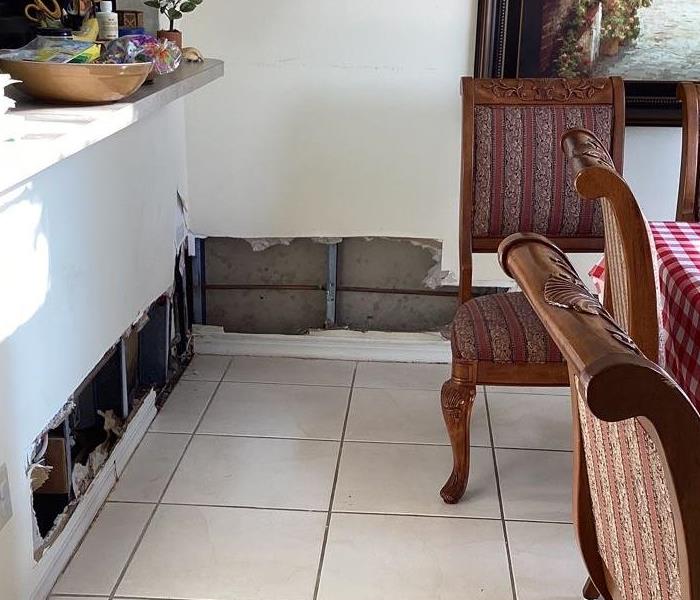 Davie customer asked herself three questions and then hires SERVPRO of East Davie/Cooper City to mitigate the water damages in her house.
Our Davie customer came home from work and found standing water in her house. She was in crisis mode. Things were moving fast. She knew that sometimes the choices we make can't be second-guessed while the catastrophe is in full swing.
ONE-SHOT
Our savvy customer in Davie knew she would only get one shot at doing things right and hiring the best mitigation company.
THREE IMPORTANT QUESTIONS
That being said, choosing SERVPRO of East Davie/Cooper City as her cleanup and restoration company was the most important step for this customer. These are the three questions she asked herself:
First—Am I going to have to worry about a job half done? When the contractor leaves, will I have to hire someone else to finish the job? If you hire SERVPRO, the answer is no. We value you as a customer and want you to be satisfied so we promise to be thorough.
Second—If the company you hire runs into difficulties, do they have the resources to push through and get the job done? At SERVPRO we absolutely do. Because we are nationwide, we have access to the know-how, the materials, and the technology of over 1,900 franchises across the USA.
Third—When the project is complete, will the finished product be "Like it never even happened"? If you choose SERVPRO of East Davie/Cooper City, the answer is a solid yes. The main reason? Because we care.
So, if you're wondering who to call in the heat of the moment, let SERVPRO of East Davie/Cooper City be your first choice. We won't let you down. We are ready for whatever happens!
954-725-6400 or 954-741-4321